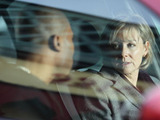 Jack is late home from the club, so Ronnie is left looking after 'James' alone in the middle of the night. As the baby is not settling, Ronnie makes a phone call to Glenda, who reluctantly agrees to come over and help. Shortly after Glenda's arrival, Jack finally returns home and reveals that he's agreed to sell his share in R&R and will be going into business with Max at the car lot. Meanwhile, Phil arrives home and tells Shirley that he has purchased the club from Jack.
In the morning, Glenda has breakfast with Roxy at the café and informs her about the sale of the club. Soon afterwards, Phil calls Roxy's phone but she's reluctant to speak to him, so Glenda picks it up instead. It turns out that Phil wants to meet Roxy at the club, but she persuades Glenda to go in her place. At the meeting with Phil and Shirley, Glenda arrives in a business-like mood, while Phil is feeling flirtatious and suggests that Glenda should be front-of-house manager. However, Shirley is displeased by the suggestion as she had been eyeing the position for herself. With little agreed, Glenda agrees to meet Phil for more negotiations later in the day, and when she pays her second visit, she teases Phil by claiming that his macho act is boring.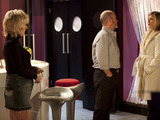 Meanwhile, Carol arrives at the bookies' for a shift but is distracted when Connor pulls up in a car and asks her to join him. Carol reluctantly agrees and once they have driven off together, Connor asks Carol why she won't admit her love for him. Carol is clearly uncomfortable by his questioning and asks to be taken back to work. When he continues to quiz her, Carol loses patience and gets out of the car.
Elsewhere, Roxy panics as her boiler breaks when Tanya and Greg are due to view the house; Dot is embarrassed when she realises there's been a mix-up over Edward; and Greg agrees to help the Masoods by patching up the roof at the Argee Bhargee, thus rescuing their plans for the