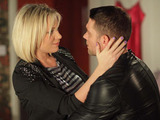 Christian is feeling excited about having a baby, but Syed doesn't want to rush in too quickly. Nevertheless, Christian heads over to visit Roxy, who surprises him by having no recollection of her offer to be a surrogate. However, Roxy then awkwardly tells Christian that she does remember after all. Christian says that he and Syed will be around later, prompting Roxy to feign a smile - it seems like she'd forgotten about Syed's involvement until that point. At the same time, Syed confides in Tamwar about the situation. Tamwar asks Syed whether he really wants a child and explains that their parents would probably never accept it. Later, Syed spots Zainab and tries to help with her shopping, but she snubs him.
Roxy tells Glenda about her plans with Christian, but Glenda feels it necessary to remind her that it wouldn't be her baby and that it sounds like she wishes Christian was straight. Later, Christian turns up at Roxy's and they discuss how they would make the conception happen. Roxy makes Christian laugh by suggesting that they could sleep together, and Roxy has to pretend that she was only joking. Roxy soon ends up with a sample which she puts in the fridge, and she must decide whether to go through with the idea. However, when Christian and Syed spend time alone, Syed says that it's all moving too fast. Christian agrees that they can wait and the pair rush to stop Roxy - but she reveals that she's already gone through with the plan…
Meanwhile, Phil tells Ben that he will be visiting the school to sort out the bullies, so a mortified Ben tells his dad that he lied about being bullied to get Ian off his back. Phil is left in a cheery mood until Shirley reminds him that they have money problems. Later, Phil arrives at the Beale household and orders Ian to give him £5,000 - otherwise he will tell Jane all about Glenda. Coming up with an idea to get the cash, Ian decides to blackmail Masood for the same amount, threatening to tell Zainab about him and Jane. A desperate Masood decides to visit the bookies, but it doesn't go to plan and he ends up asking Phil for the money. Phil is left suspicious and he intervenes - warning Ian that he won't get what he wants from Masood and must come up with the money himself.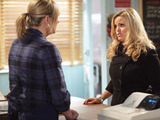 Elsewhere, Tanya is surprised by Shirley and Jane's friendship; a desperate Whitney agrees to move in with Janine; Carol tells Ricky that she hasn't been thinking clearly but will be there for him while Bianca is in prison; Vanessa gets annoyed when Max runs over to Tanya to confront her over whether he or Greg will give Lauren driving lessons; and Janine is upset when she invites Ryan out for a meal and he knocks her back.