Derek informs Alfie of his plans for another scam, plotting to steal £12,000 worth of alcohol from Trevor the drayman when his back is turned. Alfie decides to go along with the idea as times are so tough financially, but he's given food for thought when Billy questions why he doesn't have a plan of his own.
Later, Alfie and Derek arrive at the planned destination to get the booze, but Trevor declares that he's just been robbed at gunpoint. Derek assumes that Phil Mitchell must be responsible, vowing to make him pay for this as he's gone too far this time. Soon afterwards, however, Alfie secretly meets with Billy and Trevor. Alfie congratulates Trevor for pulling a blinder and hands him a wad of cash, expressing delight that they've just managed to scam Derek. Alfie then tells Billy that he doesn't care if Derek suspects Phil is responsible, as long as they're not caught themselves.
Meanwhile, Kim is dressed to impress when she turns up for another shift at The Vic. This time, her first job is to fillet a bucket-load of fish. Soon afterwards, Kim gets upset when she overhears Ray flirting with Bianca - and her jealousy starts to affect her filleting abilities! When Ray tries to help Kim out, she accidentally slices the top of his finger off and they have to go to hospital. While there, Ray confesses his feelings for Kim and pulls her in for a passionate kiss when she shows her insecure side. Is a full-blown romance on the cards for the pair?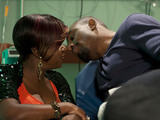 Elsewhere, a hard-up Bianca digs herself in deeper when she is forced to take out another loan as she refuses to see her kids go hungry, Dot's grief for Heather pours out when Reverend Stevens pays her a visit, while Ian tells Lucy that getting the café back would provide the excitement that's missing from his life.