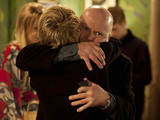 Jay is terrified following Heather's death and flees from the flat. Soon afterwards, Phil turns up ready for a showdown with Ben, but he's left stunned by the sight of Heather's lifeless body. When Phil hears what happened, he starts to call 999 and warns Ben that he could go down for life over this. However, when Ben breaks down in tears and begs his father to help him, Phil comes up with a plan.
Phil starts ransacking Heather's flat and smashes the front door in from the outside, wanting it to look like a burglary. Leaving George asleep in his bed as there is no other option, Phil then tracks a traumatised Jay down at The Arches. He suggests a cover story for the boys, ordering them to claim they were working on a car together at the time of Heather's death. Continuing the cover-up, Phil sends Ben to the canal to dispose of the murder weapon, before setting fire to the lads' clothes. However, Ben is jealous of the tenderness between the pair and deliberately conceals Jay's hoodie…
That night, the scheming trio are forced to conceal their true feelings throughout a 'welcome home Phil' dinner back at the Mitchell house. Remembering that Heather's phone was off the hook at the flat, Phil checks Shirley's mobile and is sickened to hear a voicemail message that Heather was leaving her best friend before Ben turned up. Hearing that the recording also features Heather's last moments, a disgusted Phil deletes the message.
Later, Shirley verbally attacks Ben - still not ready to forgive his recent lies. Phil is also feeling tormented, realising that he's effectively facing a choice between Shirley and Ben as he considers whether he can really go ahead with this cover-up. However, he soon realises that he has to put his son first. Shortly afterwards, Shirley starts to feel guilty over the harsh way she treated Heather earlier that day. Deciding to invite her over to the celebration, Shirley heads out to Heather's flat