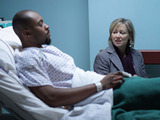 As Ricky prepares to pay a visit to Bianca in prison, Janine arrives after being kicked out by Diane. Janine reveals that she now wants to move into Pat's, but Ricky insists that it's out of the question. Ricky and Whitney then go ahead with the visit to Bianca, but Whitney struggles with the situation and leaves. When she arrives home, Whitney is shocked to find that Carol is there - especially when she says that she's moving in permanently. The pair begin to argue, but they're interrupted when the news comes through that Connor has regained consciousness.
Whitney heads off to visit Connor, but when she gets there, she bumps into Carol. While Whitney storms out, Carol goes into the hospital room to see him. They begin to talk but are interrupted when Connor's mum Kendra arrives. Kendra immediately orders Carol to leave, and Connor backs up his mum - choosing her over Carol, who's left shocked. Later, the tension between Carol and Whitney continues and, following a heated row over dinner, Whitney announces that she's moving out.
Meanwhile, Abi receives a video clip of Ben being bullied. She talks to Ben about the matter before showing the clip to Max, who decides to inform Ian. Later, Ian spots Ben skiving from school and confronts him about the bullying. However, just as Ben is about to open up, Phil turns up and demands to know why Ben isn't at school. When Phil finally discovers the truth, he declares that he wants to sort out the bullies his way - but Ben insists that isn't what he wants. Back at home, Ben gets upset and walks out as Phil continues to pursue the matter, and Phil gets annoyed when Shirley claims that he should have let Ben talk to Ian. Phil then heads out to see Glenda…
Elsewhere, things don't go to plan as Tanya and Greg move into their new house; Roxy is left feeling down after she has a bitchy argument with Janine and Albert does a runner; Max is upset when he notices how friendly Lauren and Greg are; Janine is heartbroken as Ryan finally moves his belongings out of the flat; and after one too many, Roxy offers to be a surrogate mother for Christian and Syed - but Syed doesn't seem happy.